Dental Consultant Reviews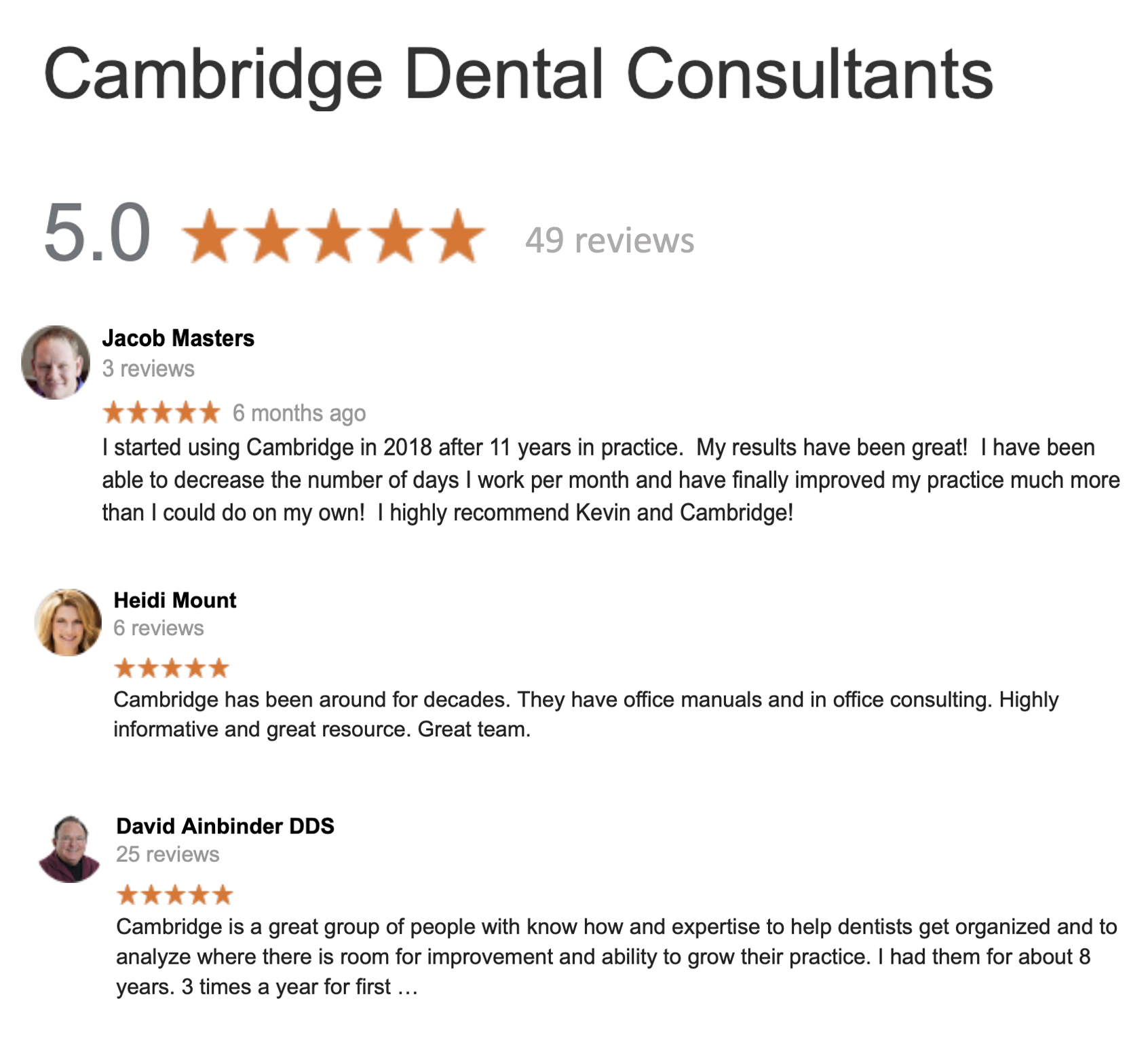 Dr. Shane Blake, DDS, Coudersport, PA
I have owned my dental practice since January 2005. The practice is a rural solo provider practice. The practice has always been successful but something was always lacking. I did not manage the practice by the numbers and its shortfalls were overcome by sheer determination and hard work for both myself and the staff.
My motivating factors to sign up with Cambridge in January of 2017 were that I had reached a point in my career where time with my family was worth more to me than the professional fulfillment that dentistry can provide. The practice was so micromanaged that it required most of my time and I didn't understand how to motivate both myself and my staff beyond the sheer nose to the grindstone path to success that had guided us the prior 12 years.
Our consultant was instrumental in educating each staff member in what expectations are and how performance for each position is measured. Staff members became more aware of their part in the overall success of the practice and doing their part. Ultimately this led to a less stressful and more productive average day which decreased management stress and headaches and allowed life to be enjoyed just a little bit more with a little more time.
We have had many changes in the practice after our initial integration over the last 1 ½ years. Cambridge has been helpful in navigating those planned and unplanned changes. My only regret is I had not called Cambridge sooner.
Dr. Kristin Rushing, DDS, Nashville, TN
I used Cambridge as well, it gave me a good foundation for employees to know what was expected of them as well as very detailed job descriptions that could be used to train new employees if I needed to replace a staff member. Mike also is good about coaching you so that you are knowledgeable about what your numbers and percentages should be but also things to look for when they are off.
Everyone is accountable for their numbers and communicate better as a team. We all want to be more productive and time was spent looking into my specific concerns as well as reviewing all facets of the business. Everything was reviewed including input from staff on ways to improve the office. I feel the morale in my office has changed and we are overall headed in a much better direction. As a side note, I've used a different consultants previously and their moto was simply to increase production. Patients felt pressured and we still had communication issues among the staff.
Dr. Jeremy Johnson, DDS, Monroe, WA
I'm extremely happy with my decision to utilize Cambridge's services. My consultant, Mike, has been awesome! I love that I can call or email him whenever and always get a quick response. He even calls and checks in if he hasn't heard from me for a bit. My production increased immediately after the first in-office visit and has continued to climb. The initial investment was recouped in increased production about seven weeks after our first meeting.
My average per day production for the first four months I worked with Mike has been 20-25% higher than the prior two years. In fact, all of the four months have had higher average per day production than ANY month in the two years prior to working with Mike.
Last month I produced more than I ever have in one month since starting my practice in 2003. On top of that is the fact that my staff is driving all of this growth! They tell me which op to go to and when, then they get all excited when we exceed our goals! These four months have been the best months of my career!
That's a lot of exclamation points! This is all to suggest that you give Cambridge a call.
Dr. Andrea Mulholland, DDS, Columbus, OH
I have been the owner of a general dental practice for ten years now. I work four days a week and have an associate who is with me for three days.
The practice has always done well but I knew there were many aspects of it that needed improvement but I didn't know how to proceed. I researched several practice management companies but decided to go with Cambridge because of their good reputation and because I didn't feel pressured.
Mike is the consultant that I have worked with for the past year and a half and he has helped my practice tremendously. He really knows the ins and outs of a practice but I appreciated that he didn't use a cookie-cutter approach. He really treated my practice like the individual practice that it is and I didn't feel pressured to follow any suggestions that I wasn't comfortable with.
I know there are a lot of management companies out there. I just really feel like Cambridge is one of the best and was the best for me and my practice.
Dr. Jeffrey D. Weaver, DDS, Port Royal, SC
We have been using Cambridge since Dec 2013. We are really just getting started, but so far everything has been great. They really have given us the tools to quickly get our team focussed, and have created systems and measurable statistics for each area. YTD for 2014 compared to 2013, our production is up 12% (over $20,000).
Our office felt "stuck", like we simply did not know what we should be doing to get better. We knew the potential was there, but did not know the next steps to take. What we liked from the start is that Cambridge has been in every type of office and seen every type of problem/issue there is. Their ideas are proven and, so far, we have been very happy with the results. Our team is really pleased with the direction we are going.
We built our office in 2007 and, had we known, would have started with Cambridge much sooner. Good luck with your decision. I think you will be very pleased with Cambridge.
Dr. Ron McHargue, DDS, Moses Lake, WA
I was fresh out of school when I bought my practice in 2012. It came riddled with staff issues and I had no knowledge of business. I thought I could handle it and went for a year and a half before really coming to the realization that I was in over my head. I was stressed completely and needed help with staff issues and business advice.
I contacted Cambridge because of what I read on Dentaltown and because of their fair price and money back guarantee. Mike was very helpful in getting me over a couple of big hurdles dealing with staff. I now have a direction and a good plan for tracking numbers and keeping a pulse on my practice. I was hesitant to even hire a consultant, but I am very glad I did and wouldn't hesitate to get Mike back and work with him again.
Dr. Ed Warr, DMD, Ashland, OR
My experience with Cambridge has been great. In June of 2014 I was very concerned as my year was down by about 6% from the previous year. I had used consultants before and hadn't liked any of them. But, I knew I needed help with what I did not know - I went to school to earn a DMD, not an MBA.
After researching several and having several phone conversations regarding their methods, I committed with Cambridge.
Their money back guarantee was a nice touch to lower the risk factor for me. So, I finished 2014 up 8% over 2013. In six months, Mike had helped me introduce practices that helped me have a 14% turn around in six months. I whole heartedly recommend Cambridge and their services.
Dr. Chris Burke, Pedodontist, Lexington, TN
I have used Mike Kittelson with Cambridge since I opened from scratch in 2009. Having no background in business, management or marketing he has helped us tremendously. Not only has he taught us which stats to track, he has coached us through employee issues, marketing programs, strategic planning for the future, and served as therapist and friend. He has also proved to be a wealth of information on helpful computing programs that have made certain tasks easier and improved employee productivity. I would recommend talking with Cambridge before making your final decision on which group to go with.
Dr. Dustin Snyder, DDS, Lewisburg PA
When I initially contacted Cambridge, I was open for about a year and the production graphs were trending down, quickly. My Cambridge coach met with me, offered several ideas specific to my situation, and two years later, I'm having annual growth over 20% and we're already at record annual production with one and a half months left in the year.
I am now busier than ever, even under the previous owner! The best dental office manual I've ever used. I can't say enough positive things about what Cambridge has done for my practice!ental practice management guru, which led to a position at Cambridge as their seminar organizer. In time, I began crisscrossing the country delivering seminars myself for the better part of a decade. Subsequently, I moved up to senior consultant and eventually owner.
---
Top Dental Consultant
---

My name is Kevin Tighe. Consultant. Coach. Mentor.
My mission is to advise, recommend and help implement proven systems to grow your practice.
Before joining the Cambridge team I was in charge of setting up workshops for large nonprofits throughout the United States and Canada. During that time, I was fortunate to receive mentoring from several world-class business consultants, including a dental practice management guru, which led to a position at Cambridge as their seminar organizer. In time, I began crisscrossing the country delivering seminars myself for the better part of a decade. Subsequently, I moved up to senior consultant and eventually partner and now sole owner.